Join us Nov. 2-3, 2022, for our fourth annual Pediatric Psychosocial and Palliative Care Virtual Conference. This year's virtual event will bring together world-class healthcare professionals to explore challenging topics in pediatric psychosocial and palliative care, including techniques for building resilience in children and teens.
VIRTUAL CONFERENCE SPEAKERS
DAY 1 - WEDNESDAY, NOVEMBER 2
AMIT SOOD, MD, MS, FACP
CEO, Global Center for Resiliency and Wellbeing Professor of Medicine (Retd.), Mayo Clinic
Time: 11:45 am
Presentation Title: Resilient Option: The Need of the Hour
IFEYINWA (IFY) OSUNKWO, MD, MPH
SVP, Chief Patient Officer, Forma Therapeutics (Watertown, MA)
Time: 1:00 pm
Presentation Title: Believe Me, Believe My Pain - Bringing Sickle Cell Disease Out of the Shadows
RABBI ELIMELECH GOLDBERG (RABBI G)
Founder & Global Director, Kids Kicking Cancer; Clinical Assistant Professor, Department of Pediatrics, Wayne State School of Medicine
Time: 2:15 pm
Presentation Title: Clinical Tools to Regulate the Pediatric Brain

DAY 2 - THURSDAY, NOVEMBER 3
ELAN SCHNEIDER, DPT, CYT
Co-Founder and CEO of TrainPain; Co-Founder of Non-Profit Pain Education Organization RetrainPain.org
Time: 11:45 am
Presentation Title: Neuroplasticity & The Future of Pain Care
EVAN RUGGIERO
Drama Desk Nominated Actor and Cancer Survivor
Time: 1:00 pm
Presentation Title: Cancer Survivor to Professional Actor and Dancer
ADAM RAPOPORT, MD, FRCPC, MHSC
Medical Director, Pediatric Advanced Care Team (PACT), The Hospital for Sick Children; Medical Director, Emily's House Children's Hospice
Time: 2:15 pm
Presentation Title: Wonders, worries and wishes: Talking with children about illness and death
Time:
11:30 a.m. - 4:00 p.m. EST daily
Ticket Cost:
$65 per person (includes both days).
Additional Info;
Reduced student pricing and scholarships available. 
Last year we offered CEU, CME, and PDU credits for Social Work, Nursing, Medicine and Child Life. 
Don't miss this dynamic results-focused conference! Register today.
Thank you to our event sponsors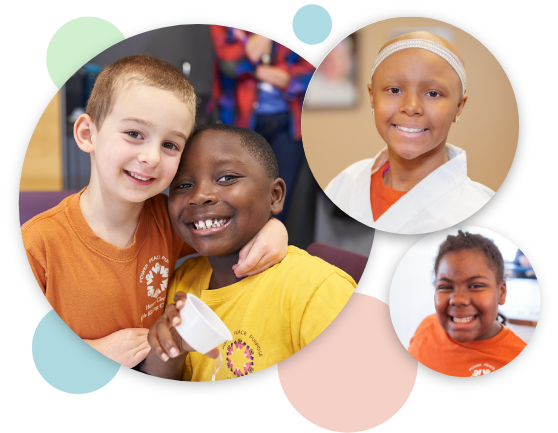 Despite the ongoing challenges of the global pandemic, we are committed to empowering one million children to reduce their pain and stress with the help of our evidence-based martial arts therapy.
Add
impact

to your inbox

We'll send you periodic updates on how supporters like you are helping us ease the pain and trauma of children, while empowering them to find purpose in their young lives. Plus, you'll get to meet some of our little heroes, receive special program announcements, and more.