Our mission is to ease the pain and trauma of children while empowering them to heal physically, spiritually and emotionally.
The Heroes Circle is a global healing and wellness initiative inspired by the children of Kids Kicking Cancer.
We are a 501(c)(3) non-profit organization that offers evidence-based martial arts therapy to kids. Our focus is on pain and stress management for pediatric patients, as well as creating resilience and support for otherwise healthy children.
Backed by research, our non-contact martial arts therapeutic program gives kids the tools to self-regulate when they encounter stress or are experiencing a pain crisis. The program teaches meditative breathing, mindfulness and movement, engaging children's imaginations while teaching them how to work through overwhelming emotions like pain, fear and anger. ​
Heroes Circle therapy is safer and more cost effective than just relying on pharmaceuticals. Our work improves compliance, which allows children to be a part of their healing. When we empower children, we lower their stress levels and the impact of childhood trauma.
The Heroes Circle involves the entire family, strengthening children, as well as adults. Our ability to reach more children becomes exponential as we continue to train clinicians in the United States and around the globe.
Join our mission to improve the lives of children globally.
At the Heroes Circle, our work focuses around three strategic areas:​
Our evidence-based techniques for dealing with pain and stress are delivered in person and virtually throughout hospitals, medical facilities, outpatient centers, homes and schools across the United States and globally.​
Together, We Are Changing Lives
This snapshot is a chance to celebrate everything that we accomplished together in 2022, thanks to donors like you!
The total number of instances that children in our Heroes Circle Pediatric Healing and School Programs participated in a class or session.
Martial Arts Therapists worked with our Heroes Circle community worldwide.
+
Breath Brakes taken by our Heroes Circle community.
The Heroes Circle serves kids in thirty-two states; within ten countries; and spread across five continents.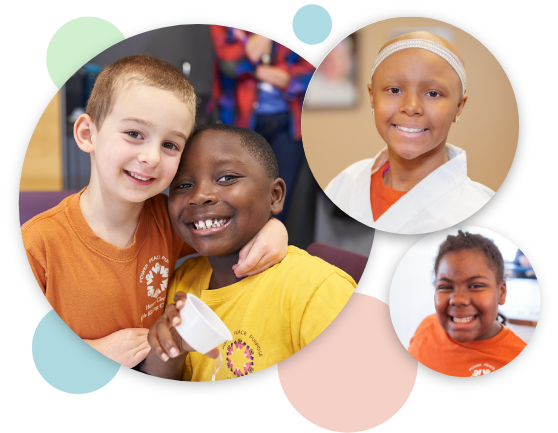 Despite the ongoing challenges of the global pandemic, we are committed to empowering one million children to reduce their pain and stress with the help of our evidence-based martial arts therapy.
Add
impact

to your inbox

We'll send you periodic updates on how supporters like you are helping us ease the pain and trauma of children, while empowering them to find purpose in their young lives. Plus, you'll get to meet some of our little heroes, receive special program announcements, and more.