Our instructors teach non-contact karate accompanied by breath techniques to relax and empower the students.
Kids Kicking Cancer's Heroes Circle Program classes are something special for your child and the whole family.
Classes teach traditional karate moves along with the mind-body techniques of meditation, breathing, relaxation, and visualization to dramatically lower pain levels.
Please watch and listen as some of our children learn to breathe in the light, and blow out at darkness:
Meet the children that are at the center of everything we do at the Heroes Circle.
Our Martial Arts Therapists
Learn about our Martial Arts Therapists (MATs), their work and their passions. Our MAT Chat Q&A series spotlights out MATs and their commitment to empowering our Heroes Circle community.
Our new Digital Dojo will spark learning and discovery for all ages – helping kids find Power. Peace. Purpose. from their home or hospital room. Children and families will have on-demand access to our latest martial arts therapeutic training videos and activities, as well as the opportunity to connect with Heroes Circle Martial Arts Therapists and peers all over the world.
Our digital dojo, generously sponsored by the Kraft Family, is currently under construction. Please check back soon!
My Martial Arts Super Power Kit
Our Super Power Kit is designed for children and families who may or may not have access to formal Heroes Circle programming. The kit is designed to teach therapeutic martial arts techniques in fun, easy-to-learn exercises. Families can receive their Super Power Kit from their hospital or order directly from us. 
Breathing and meditation is a fundamental aspect of the Heroes Circle.
Breath is the one part of our autonomic and involuntary nervous system that we can easily control. Regulating one's breath is the key to stopping the body's stress response from a message of "flight or fight, to one of calm and relaxation.  When we inhale, we "lift ourselves up."  As we exhale, we can release the tension in our muscles and any darkness in our bodies.  Putting that all together, we have a "Breath Brake," an instrumental tool to combat stress.
Want to discover the awesome power of your breath?  Please check out these free meditations available to everyone and support the PURPOSE of thousands of Heroes Circle children across the world as they continue to inspire and teach the world.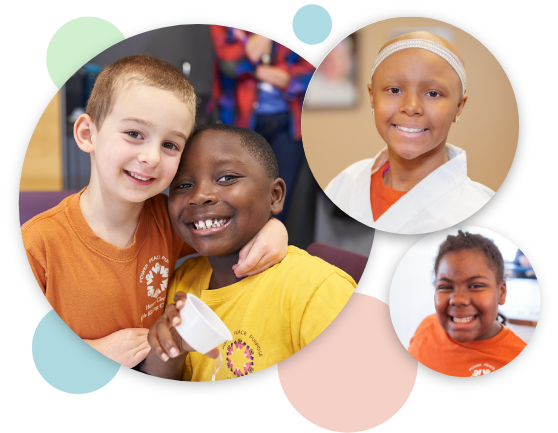 Despite the ongoing challenges of the global pandemic, we are committed to empowering one million children to reduce their pain and stress with the help of our evidence-based martial arts therapy.
Add
impact

to your inbox

We'll send you periodic updates on how supporters like you are helping us ease the pain and trauma of children, while empowering them to find purpose in their young lives. Plus, you'll get to meet some of our little heroes, receive special program announcements, and more.