For over twenty years, our story has been about helping children find their power, peace and purpose.
In 1999, Rabbi Elimelech Goldberg started Kids Kicking Cancer in response to the amazing benefits he found that martial arts meditation and breathing techniques have for those in great pain and stress — particularly children.
As the program began to develop, parents, doctors, nurses and many others began to comment on the changes they saw in the boys and girls who had joined our classes. These adults were nothing short of mesmerized as they witnessed kids utilizing a technique for taking control of pain, fear and anger. In addition, the children became natural teachers of these methods.
Backed by research, our martial arts-based meditative techniques have proven successful in reducing pain and stress in children with cancer and other chronic illnesses, as well as their otherwise healthy siblings.
As a result, Kids Kicking Cancer expanded from servicing only pediatric cancer patients, into the creation of the Heroes Circle®, an initiative dedicated to lowering the pain and stress of ALL children.
The Heroes Circle is aiming to improve an individual's capability to manage and respond to stress, pain and trauma. Thanks to a global network of funders, partners, volunteers and martial arts therapists, we have expanded our programming to reach children in 21 U.S. states and 10 different countries.
2016
Rabbi G. hosted the first Global Martial Arts Therapist Seminar in Michigan.
2018
Launched the pilot of our Heroes Circle Elementary School Program in Oak Park Michigan School District.
2019
The Heroes Circle expands into Zimbabwe and Zambia, and our global program team hosts our first annual global palliative care seminar.
2020
As a response to the global pandemic, we pivoted to 100% virtual programming for children and families.
2021
The Heroes Circle expands into Australia.
2022
Expanded our Heroes Circe School Program to include a middle school curriculum piloted in Oak Park Michigan School District.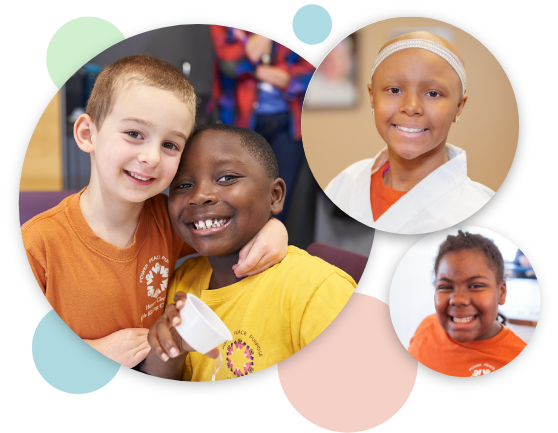 Despite the ongoing challenges of the global pandemic, we are committed to empowering one million children to reduce their pain and stress with the help of our evidence-based martial arts therapy.
Add
impact

to your inbox

We'll send you periodic updates on how supporters like you are helping us ease the pain and trauma of children, while empowering them to find purpose in their young lives. Plus, you'll get to meet some of our little heroes, receive special program announcements, and more.