Pediatric Healing Program
Little Heroes, Big Healing
Teaching pediatric patients to use martial arts-based techniques to manage their response to pain and stress.
Our therapy is evidence-based and backed by leading pediatric hospitals.
In our Heroes Circle Pediatric Healing Program, we use martial arts therapeutic techniques to help children, teens and young adults cope with difficult situations associated with chronic health conditions such as cancer, sickle cell, hemophilia, heart disease, and chronic GI disease, organ transplant and other pediatric illnesses.
Pediatric patients often find diagnostic tools frightening and painful. Treatments, including chemotherapies, surgeries, blood transfusions and radiation, may leave these children feeling fatigued, nauseous and depressed. The message they receive is that they are weak, passive, and without control over their own existence.
Our unique non-contact, martial arts approach blends together the elements of imagery, empowerment, relaxation, and movement to equip students with the tools necessary to overcome pain and self-regulate during moments of extreme stress.
In several studies, our methodology has been proven to reduce pain and distress among children with chronic health conditions, as well as their otherwise healthy siblings. Our reputation as a standard of pediatric care is evidenced and widely sought by doctors, nurses, psychosocial clinicians and parents.
This is the mantra used by all of our Heroes Circle programs and is truly indicative of the transformation in a student from feeling helpless to conquering their pain, stress or anxiety.
Journey to the Heroes Circle
In 1999, Rabbi Elimelech Goldberg started Kids Kicking Cancer in response to the amazing benefits he found that martial arts meditation and breathing techniques have for those in great pain and stress — particularly children.
Classes teach traditional karate moves along with the mind-body techniques of meditation, breathing, relaxation and visualization to dramatically lower pain levels. Learn more about the program and meet some of our little heroes.
Since our inception, we have committed to providing martial arts therapy to children and families at no cost. However, we know that each of these children has stressors and challenges beyond our classes, as many of our families suffer financially from medical bills and other expenses (COVID-19 has only exacerbated these issues). Because we consider these families our own, we offer a family service emergency fund for parents and children in our program who are struggling financially.
Register your child today!
The Heroes Circle Pediatric Healing Program, led by trained Martial Arts Therapists, is open to 3-year-old children to young adults. We offer in-person and virtual options at no cost to families. Once registered, students will receive a martial arts uniform with a belt, t-shirt and a Martial Arts Super Power Kit.
Together, We Are Changing Lives
This snapshot is a chance to celebrate everything that we accomplished together in 2021, thanks to donors like you!
The total number of instances that children in our Heroes Circle Pediatric Healing Program participated in a class or session.
Hospitals and program locations offered Heroes Circle programming.
Pediatric patients each participated in an average of five classes last year.
Summer camps offered its campers Heroes Circle virtual programing in the United States and Ontario, Canada.
Research, Grants & Case Studies
Mounting evidence demonstrates that meditation can lower pain and emotional distress in adults, and more recently, in children. Children may benefit from meditation given its … Continued
Frequently Asked Questions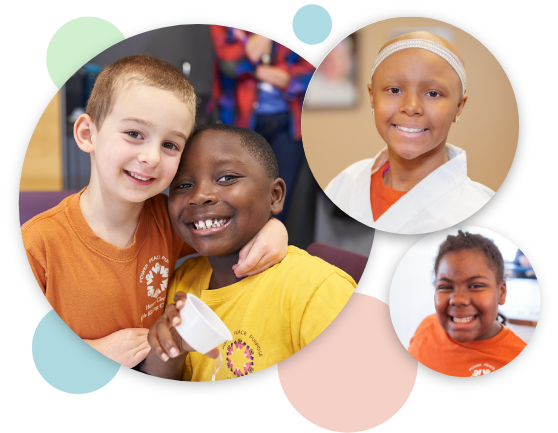 Despite the ongoing challenges of the global pandemic, we are committed to empowering one million children to reduce their pain and stress with the help of our evidence-based martial arts therapy.
Add
impact

to your inbox

We'll send you periodic updates on how supporters like you are helping us ease the pain and trauma of children, while empowering them to find purpose in their young lives. Plus, you'll get to meet some of our little heroes, receive special program announcements, and more.