Find Power. Peace. Purpose. at Summer Camp
 Summer camp is a time to have fun, make friends and gain new skills. But most importantly, it's a time for pediatric patients to gain positive experiences in a safe environment tailored to their diagnosis.
In partnership with illness-based summer camps across the United States and Canada, the Heroes Circle offers therapeutic martial arts workshops to campers and staff. The program is a non-contact form of martial arts adapted for all children regardless of physical limitations. Campers learn meditation, breathing, and movement techniques to help lower their pain and response to stress. We offer a wide variety of options, either virtual or in-person, that are tailored to each unique camp schedule and program.
Interested in signing your child up for a camp?
Below is a list of some of our partners.
Are you a camp provider interested in Kids Kicking Cancer Heroes Circle programming?
What people are saying about the Heroes Circle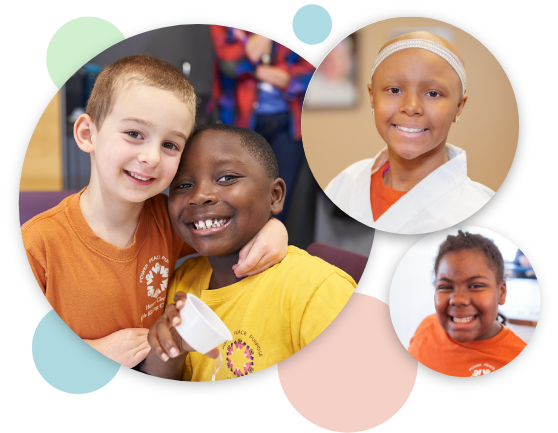 Despite the ongoing challenges of the global pandemic, we are committed to empowering one million children to reduce their pain and stress with the help of our evidence-based martial arts therapy.
Add
impact

to your inbox

We'll send you periodic updates on how supporters like you are helping us ease the pain and trauma of children, while empowering them to find purpose in their young lives. Plus, you'll get to meet some of our little heroes, receive special program announcements, and more.