Effective on: November 21, 2022
At Kids Kicking Cancer, we want you to know that we value your personal information and that we respect your privacy. Please read our Privacy Policy for more information.
By using or accessing the Site or the Services, you agree to the terms of this Privacy Policy.
Capitalized terms not defined here have the meanings set forth in the terms and conditions (the "Terms and Conditions"), located at https://heroescircle.org/hero-app/terms-conditions. We may update our Privacy Policy to reflect changes to our information practices. If we do this and the changes are material, we will post a notice that we have made changes to this Privacy Policy on our website at https://heroescircle.org/hero-app (the "Website") for at least 7 days before the changes are made, and we will indicate the date these terms were last revised at the top of the Privacy Policy. Any revisions to this Privacy Policy will become effective at the end of that 7-day period.
1. DEFINITIONS
A. "Affiliate(s)" means any entity that controls, is under common control with, or is controlled by either party, where "control" means the ownership, direct or indirect, of a majority of an entity's equity or some other interest entitling or otherwise allowing the owner to direct the affairs of such entity, specifically including without limitation, any and all subsidiaries and affiliates of which either party owns, directly or indirectly, twenty-five percent (25%) or more of the voting securities.
B. "Site" refers to the Website, and other related websites, blogs, domains, mobile sites, online services and applications, such as The HERO App, maintained by The Heroes Circle.
D. "Services" means the products and services provided through the Site.
E. "You" and "your" mean the individual or entity visiting or using the Site, which includes receiving the Services.
F. "Data" includes both Non-Personal Information and Personally Identifiable Information.
G. "Non-Personal Information" is any information that is not Personally Identifiable Information (defined below). Non-Personal Information includes, without limitation, Personally Identifiable Information that has been anonymized.
H. "Personally Identifiable Information" or "PII" or "personal information" is non-public information we receive from your use of the Site that can be used, alone or in combination with other information in our possession, to identify a particular person/individual. It may include information such as name, email address, and other personal information you provide us.
I. The "HERO App" (Helping Empower children while Reinforcing Ourselves) is a software application developed by The Heroes Circle for mobile devices that operate on the iOS and/or Android platform.
J. The "HERO App" promotes the mental well-being of adults with substance use disorder, while at the same time helping the children of The Heroes Circle through anonymous, pre-filled interactions through the application.
2. INFORMATION COLLECTED AND CONSENT
This following explains how we collect, use and share your personal data.
You do not have to provide any Personally Identifiable Information to browse the publicly available pages of the Website; however, in order to obtain or use the Services that are or may be provided through the Site or that we may otherwise offer online or offline (i.e., the Services) you may be required to register and/or provide Personally Identifiable Information.
Information You Provide Us: Through the registration process to use the Services, we ask for a first name or username and email address. We may also collect additional information from you such as your birthdate and city and state.
Activity Data: When you use the Services, you will submit information and content, which will be associated with your profile. We will generate data based upon your usage of the Services. We also collect technical data about how you interact with the Services. The data collection described in this paragraph is referred to as "Activity Data."
We record the following data:
• Login information
• Email addresses
• Location (city and state)
• Usage patterns such as clicks and scrolling
• Technical specifications such as device identification, device type, browser, operating system, viewfinder size, script errors, ISP and IP address
• Navigation information, pages in The HERO App visited, referrers, URL parameters and session duration
• Answers to questions presented while using the Services and other interactions with the Services
In addition to the above data collection, for the HERO App we also collect through the registration process the following additional data:
• Age
• Gender
• Race
• Ethnicity
• Zip code
• Treatment and recovery information
While using the HERO App we also collect the following information:
• Information regarding your assessment of the HERO App and the quality of your interactions with it
• General mental well-being information
For Non-Personal Information, you acknowledge and consent to our using such information for any purpose, including, without limitation, to help us improve the Services and to enhance your and other users' experience. We may also convert PII into Non-Personal Information by excluding information that is personally identifiable. You acknowledge that Non-Personal Information and PII that is converted into Non-Personal Information belongs to The Heroes Circle and that The Heroes Circle has the right to use such general information as it determines in its sole discretion.
Notwithstanding the foregoing, we will treat as PII any item that, either alone or together with other information, we could use to identify an individual. Except as described below, we will not share with third parties any PII without your permission.
By providing your PII to us, you explicitly agree to our collection and use of such information as described in this Privacy Policy. By providing PII belonging to another person, you expressly represent and warrant that you have the authority and right to do so, and that you obtained all appropriate and required consents.
We may also collect your PII from sources that you have authorized to share with us or that you have authorized us to obtain information from. We will use your PII in those circumstances to provide the Services that your PII was shared with us to fulfill. If you believe we received your PII from a source without authority to share your PII with us, please contact us so that we can resolve your complaint.
The Heroes Circle may use PII for the following purposes:
A. To improve customer service: Your information helps us to more effectively communicate with you regarding your app experience.
B. To perform research and/or improve user experience: We may use your scripted voice recording within the app to personalize your experience. We may use information in the aggregate, which is de-identified, anonymized and randomized, to understand how our users as a group use the Services and for other purposes related to our research and studies.
C. To improve the Services: We continually strive to improve the Services based on the information and feedback we receive from you.
D. To provide products or services and to process transactions: Except as otherwise expressly provided in this Privacy Policy, we will use Data only for the purpose of fulfilling our duties and providing the Services. The Heroes Circle may use Non-Personal Information for product development, research, or other purposes. We may use the information that you provide about yourself for the purpose of providing and fulfilling the Services. We do not share this information with outside parties except to the extent necessary to provide the Services. Only The Heroes Circle, its subsidiaries, its Affiliates, its suppliers and contractors involved in providing the Services will have access to your PII. Our subsidiaries, suppliers and contractors will be required to use any PII we provide to them only for that intended purpose and subject to the terms of this Privacy Policy.
E. To send periodic emails: The email address you provide for the Services will only be used to send you information and updates pertaining to the Services requested. It may also be used to respond to your inquiries, and/or other requests or questions.
F. To develop new products or services: We use your Non-Personal Information for internal commercial purposes. The information we collect may be used to develop new products or services. Except as otherwise provided in this Privacy Policy, we may use your Non-Personal Information internally or, among other things, to offer our own products and services. Only The Heroes Circle, its Affiliates, its subsidiaries, its suppliers and contractors involved in distributing the new product or service will have access to your PII. Our Affiliates, subsidiaries, suppliers and contractors will be required to use any PII we provide to them only for that intended purpose and subject to the terms of this Privacy Policy.
G. Fulfillment of Obligations: Comply with contractual obligations, relevant industry standards and our policies.
H. Security: Mitigate fraud, enhance the security of The HERO App and manage institutional risk;
I. For fundraising: Except as otherwise expressly provided for in this Privacy Policy or except as prohibited by applicable law, The Heroes Circle may use Non-Personal Information to enhance its networking, fundraising, and for other similar business purposes. We may also use Personally Identifiable Information to provide you information regarding new products or services. Personally Identifiable Information is not shared with entities outside of The Heroes Circle other than service providers who assist us in carrying out these business functions.
J. Compliance with applicable law: We may disclose your PII as we may in our sole discretion determine is necessary or reasonably required to comply with the law, applicable regulations, court orders or subpoenas, to enforce our Terms and Conditions, or to protect our rights, property or safety, or the rights, property or safety of others.
K. Change in the Site Ownership: If ownership of The HERO App or of The Heroes Circle changes, whether in whole or in part, information collected through the Services about you may be transferred to the new owner of The HERO App and/or The Heroes Circle, as the case may be, and any Services can continue. In that case, your user information would remain subject to the Terms and Conditions of the applicable version of the Privacy Policy.
The Heroes Circle never discloses Personal Information to other users of the Services. An adult using the HERO App or any other Service will never receive Personally Identifiable Information about a child that he/she is not the parent or guardian of.
3. WEB BROWSER COOKIES
The Website may send a "cookie" to your computer. A cookie is a small piece of data sent to your browser from a web server and stored on your computer's hard drive. A cookie cannot read data off your hard disk or read cookie files created by other sites. Cookies do not damage your system. Cookies allow us to recognize you as a user when you return to the Website or use the online Services using the same computer and web browser. We use cookies to identify which areas of the website you have visited. We also may use this information to better personalize the content you see on the Website. The Heroes Circle does not store unencrypted Personally Identifiable Information in the cookies. We also do not link Non-Personal Information from cookies to your Personally Identifiable Information.
To help us optimize the Website, we may allow other authorized third parties to place or recognize unique cookies on your browser. Any information provided to third parties through cookies will be for enhancing your user experience by providing more relevant marketing. Third party services and tools we may use, which may send cookies to users of the Site and may collect information from users, includes:
Firebase, Google Analytics ("Google"): Google collects anonymous data (ad views, analytics, browser information, cookie data, date/time, demographic data, hardware/software type, internet service provider, interaction data, page views, and serving domains), pseudonymous data (IP Address (EU PII), Device ID (EU PII), PII (name, address, phone number, email address, login, EU- IP address, EU-unique device ID ), sensitive (financial information). Aggregate data, anonymous data,PII data and sensitive data is shared by Google with third-party parties. We use the information we get from Google only to improve this website. Google collects only the IP address assigned to you on the date you visit this website, rather than your name or other identifying information. You can review Google's privacy policy at https://www.google.com/policies/privacy/. Although Google plants a permanent cookie on your web browser to identify you as a unique user the next time you visit this website, the cookie cannot be used by anyone but Google. Google's ability to use and share information collected by Google about your visits to this website is restricted by the Google Terms of Use and the Google Privacy Policy. You can prevent Google from recognizing you on return visits to the website by disabling cookies on your browser (see below).
Jetpack: Jetpack collects IP addresses and anonymizes them after processing and before it is saved. You can review the privacy policy for Jetpack at https://automatic.com/privacy/.
AddToAnny: AddToAnny collects anonymous usage data (browser information, cookie data, date/time, demographic data, hardware/software type, page views), pseudonymous (IP Address (EU PII), location based data, device ID (EU PII)) PII (name, phone number, email address, login, EU-IP address, EU-unique device ID ) Sensitive (financial information).
Some browsers may allow you to manage the storage of cookies on your device. If supported by your browser, you may set your browser to refuse all cookies (or, sometimes all third-party cookies) or to alert you when a cookie is placed. However, if you select these settings, you may be unable to access certain parts of the Website or the Services. Unless you have adjusted your browser setting to refuse cookies, the Website will issue cookies. For more information about how to manage your cookies preferences, use the 'help' menu of your web browser or explore the customer support sections of your web browser. To opt-out of all cookies or certain cookies, visit the company website for your browser for instructions.
4. SECURITY
We will use commercially reasonable methods to keep personal information securely in our files and systems.
5. DO NOT TRACK
We will include "Do Not Track" code on our survey pages.
6. EXEMPTIONS FROM THE PRIVACY POLICY
Our Privacy Policy does not apply to any information you may send to The Heroes Circle by email or instant messaging programs (e.g., AOL, Yahoo, etc.), or through social media networks, even if you open such programs or services by clicking a link displayed on the Site. Email, social media, and instant messages are not recognized as secure communication forms. Please do not send any information you consider private to us by email or instant message or through social media sites (e.g., Twitter, Facebook, etc.) due to the public nature of such postings.
7. LINKS TO OTHER SITES
The Site may contain links to other websites. The Heroes Circle is not responsible for the actions, practices, or content of websites linked to or from the Site. You understand such websites may require you to agree to their terms of use and that we have no control over these terms. As always, you understand it is your responsibility to verify your legal use of a website, and use of information from the website with the corresponding website owner.
8. AGE OF CONSENT
The Heroes Circle takes special care to protect the privacy needs of children under the age of 13 ("Child End Users") and we encourage parents to be an active participant in their child's online activities. The Heroes Circle abides by the Children's Online Privacy Protection Act (COPPA) and other relevant laws. The Heroes Circle only collects PII from Child End Users for the sole purpose of performing internal operations of the Services. If we discover that we have unknowingly collected additional personal information from a Child End User we will delete it. If you have knowledge that we have collected personal information from a Child End User, please contact us privacy@kidskickingcancer.org, but before any information is disclosed, the parent/guardian will be required to provide verification of his/her identity and authority related to any request. We will only send the information to the parent's/guardian's email address in the registration file.
When collecting email addresses, we will not request the email address of any Child End User. Instead, we will require the parent's/guardian's email address. Please do not provide us with the email address of any Child End User.
If the jurisdiction that the child is located in has a different age requirement for online consent, we will comply with that age requirement. If there are competing age requirements in a jurisdiction, for example federal versus state law, we will comply with the older age requirement for obtaining consent of the parent/guardian and all children that are under the age for online consent will be deemed a Child End User in that jurisdiction.
Prior to allowing any Child End User access to The HERO App or any other Services, the parent/guardian will be required to contact The Heroes Circle in order to verify his/her identity and authority to consent to the Child End User's use of The HERO App or any other Services.
Upon verification of the identity and authority of the parent/guardian of a Child End User, the parent/guardian will have the right to:
• Permit the Child end User to use The HERO App
• Access the Child End User's PII and to have the PII deleted
• Terminate the Child End User's access to The HERO App and any other Services
9. CAN-SPAM COMPLIANCE NOTICE
The Heroes Circle fully complies with the federal CAN-SPAM Act. You can always opt-out of receipt of further email correspondence from us.
10. DATA RETENTION
The Heroes Circle will only retain PII for as long as is necessary to fulfill the purpose for which it was collected and will delete the information using reasonable measures to protect against its unauthorized access or use.
11. CALIFORNIA PRIVACY RIGHTS
Under Section 1798.83 of the California Civil Code, residents of California can obtain certain information from companies with whom they have an established business relationship. That information is about the Personally Identifiable Information those companies have shared with third parties for direct marketing purposes during the preceding calendar year. The law requires companies to inform consumers about the categories of Personally Identifiable Information shared with third parties, the names and addresses of those third parties, and examples of the services or products marketed by those third parties. To request a copy of the information disclosure provided by The Heroes Circle under Section 1798.83 of the California Civil Code, please contact us via email to heroapp-privacy@heroescircle.org.
12. YOUR NEVADA PRIVACY RIGHTS
Nevada law (SB 220), permits customers in Nevada to opt-out of the sale of certain kinds of personal information. A sale under Nevada law is the transfer of this personal information to third parties for monetary consideration so these third parties can then re-sell or license the sold information. We do not sell your personal information to third parties as defined in Nevada law. If you are a Nevada resident and wish to opt-out of the sale of your personal information should we change our practices in the future, you must send a request by email to heroapp-privacy@heroescircle.org.
13. SALE OF PERSONAL INFORMATION
We do not sell, lease or share your PII.
14. AMENDMENTS
The Heroes Circle reserves the right to change the Privacy Policy from time to time at its sole discretion with or without notice. Any revisions are effective immediately once posted on the Site. Your continued use of the Site shall indicate your acceptance of the revision. Revisions to the Privacy Policy regarding the use of Personally Identifiable Information are not retroactive.
15. EUROPEAN UNION DISCLOSURE
Personal information voluntarily submitted to The Heroes Circle online, via electronic communication, or otherwise, may be maintained or accessed in servers or files in the United States of America, which the European Union has not deemed to provide "adequate" privacy protection. If you do not consent to having your information processed and stored in the United States of America, please do not provide it to The Heroes Circle.
16. CONTACT
If you have any questions about the Privacy Policy please contact us at heroapp-privacy@heroescircle.org. or by mail at:
The Heroes Circle
Attn: HERO App Privacy Dept.
27600 Northwestern Highway
Suite 220
Southfield, MI 48034
Or call us at:
248-864-8238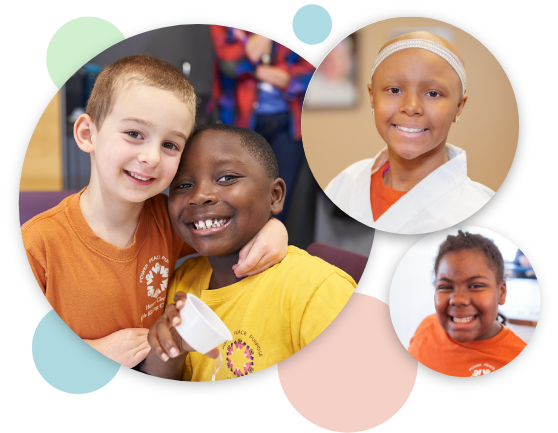 Despite the ongoing challenges of the global pandemic, we are committed to empowering one million children to reduce their pain and stress with the help of our evidence-based martial arts therapy.
Add
impact

to your inbox

We'll send you periodic updates on how supporters like you are helping us ease the pain and trauma of children, while empowering them to find purpose in their young lives. Plus, you'll get to meet some of our little heroes, receive special program announcements, and more.