General/Healthcare Providers
Q: What is Therapeutic Martial Arts?
A: Therapeutic Martial Arts is a form of non-contact martial arts focused on breathing, imagery and gentle movements. It was designed to empower children and teens to take control over adversity and challenges in their life.
Q: How can my kids or patients do martial arts if they are sick?
A: Classes are adapted to a patient's abilities, modifying for any limitations. Meditations are extremely effective for children when they are feeling quite ill or are in pain.
Q: Who teaches the classes/sessions? What are their qualifications?
A: Martial Arts classes are taught by Black Belt martial artists who are trained and certified in therapeutic martial arts, as well as the unique needs of children and families dealing with illness.
Q: Does the program cost money to participate?
A: Our program does not cost money for families to participate.
Q: Can siblings join too?
A: Yes, we welcome siblings to participate in all of our programs.
Q: How many classes do you have to attend (in general)?
A: As many classes as you would like to attend. There are no prescribed number of classes needed and older children usually stay on to teach the younger ones.
Q: Is it okay to miss classes?
A: Of course, it is okay to miss classes. We understand schedules are unpredictable when dealing with an illness and we are happy to have you attend whenever they are able.
Q: How long is the program? # of weeks? # of sessions? Length of time?
A: Program sessions vary. Classes range from 30-60 minutes each. The length of bedside visits are determined by the interest of the child. Some of our classes are held year-round and some of them take place in sessions. Please contact us at Programs@kidskickingcancer.org for more information.
Q: How much does a uniform cost?
A: Uniforms and program materials are provided at no cost to participating families.
Q: Where are the classes held?
A: Classes are delivered in person and virtually throughout hospitals, community organizations, medical facilities, outpatient centers, and camps across the United States (and globally).
Q: What times are classes offered?
A: Classes are offered at various times 7-days a week. Contact us at Programs@kidskickingcancer.org for class information.
Q: Can my child participate virtually?
A: Yes, we welcome virtual participation.
Q: What ages can participate?
A: Ages 3-18+ years old.
Q: Are classes held in person or virtually?
A: Because of the ongoing pandemic, we are continuing to hold classes virtually. While we are now returning to in person hospital visits, we are still growing our virtual offerings.
Q: How can a family join/how can I refer a family to join?
A: Email us at Programs@kidskickingcancer.org or sign up on our website.
Q: I'm a healthcare professional. How do I best present the Heroes Circle to my patients?
A: The Heroes Circle is a healing and wellness initiative inspired by the children of Kids Kicking Cancer. The program teaches kids non-contact evidence-based therapeutic martial arts, focusing on breathing and meditation techniques to help lower pain and stress.
Parent/Caregiver/Participants
Q: My child can't get out of bed. Can they participate?
A: Children can use upper body movements or focus on breathing if they are unable to get out of bed. Our Therapeutic Martial Artist Instructors seek guidance from the medical staff and families when children display limitations.
Q: My child has balance issues. How can they participate?
A: Our Therapeutic Martial Arts Instructors will adapt class, environment and movements to accommodate students with balance issues. They may also ask that a parent (if virtual) or instructor (if in person) stands by the student to assist.
Q: My child has limited use of limbs/no use of limbs/in wheelchair. How can they participate?
A: Classes are adapted for the abilities of the students in class. Our Therapeutic Martial Arts Instructors can modify movements to accommodate. The key is the power of the mind.
Q: My child doesn't have cancer. I see your name has Kids Kicking Cancer in it. Can they still participate?
A: Yes! Our original program began exclusively with pediatric oncology patients; however our Heroes Circle Pediatric Healing Program is for children with any pediatric illness.
Q: What does my child need to have to participate (clothing, equipment, paperwork, tech device, etc.)?
A: Parents will need to complete an online registration form. We will provide a uniform and T-shirt. For virtual classes, families will need a device with the ability to sign on to Zoom. If families do not have a device, they should let us know.
Q: Can my child be seen by a Therapeutic Martial Arts Instructor when they are in the hospital?
A: Yes. If your child is already in our program and your child is hospitalized, please contact us at Programs@kidskickingcancer.org to schedule an in-person or virtual visit.
Q: I don't see my child's hospital/state listed. Can I still enroll my child/refer families?
A: Yes, you are welcome to enroll your child, as we have virtual programs for children living anywhere.
Q: I'm a parent. Do I need a referral to join, or can I sign my child up?
A: You do not need a referral to sign your child up. Anyone can refer your child to join, including you.
Q: I am a parent with cancer. Can my child participate?
A: Yes, we welcome children/grandchildren of adult cancer patients.
Q: Does my child's doctor need to give approval for their participation?
A: We do ask for a medical sign-off for your child to participate. Please let us know of any limitations prior to class.
Q: If my child is in remission or has recovered, can they participate?
A: Yes, your child and their siblings are welcome to join our program. Pediatric illness can have life long implications and we find that children in remission or those that have recovered still benefit greatly from our Heroes Circle programming.
Q: What if I don't want to participate? Can I just come and watch first?
A: You are welcome to watch a class before committing. We can also offer a one-on-one session with one of our Therapeutic Martial Arts Instructors to go over the basics.
Q: Can I leave at any time?
A: You can stay in the program however long or short you'd like –whatever works for you and your family. There is no set time commitment. If you need to leave class midway, just let us know.
Q: Do I have to like karate?
A: Even children who may not want to take karate, have shown that they enjoy the meditation, empowerment and social bonding that comes along with the program. Encourage them to give it a try!
Q: What if my child doesn't know how to do karate?
A: No worries! Our Therapeutic Martial Arts Instructors are all black belt trained and can teach your child.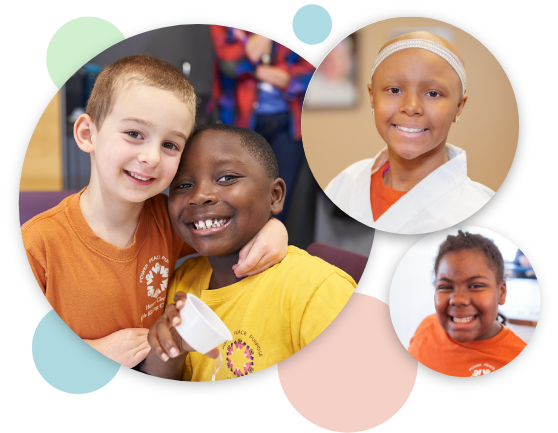 Despite the ongoing challenges of the global pandemic, we are committed to empowering one million children to reduce their pain and stress with the help of our evidence-based martial arts therapy.
Add
impact

to your inbox

We'll send you periodic updates on how supporters like you are helping us ease the pain and trauma of children, while empowering them to find purpose in their young lives. Plus, you'll get to meet some of our little heroes, receive special program announcements, and more.